Is Sex in Water As Good As It Looks?
Posted by

Categories

Sex Tips

Date

February 20, 2020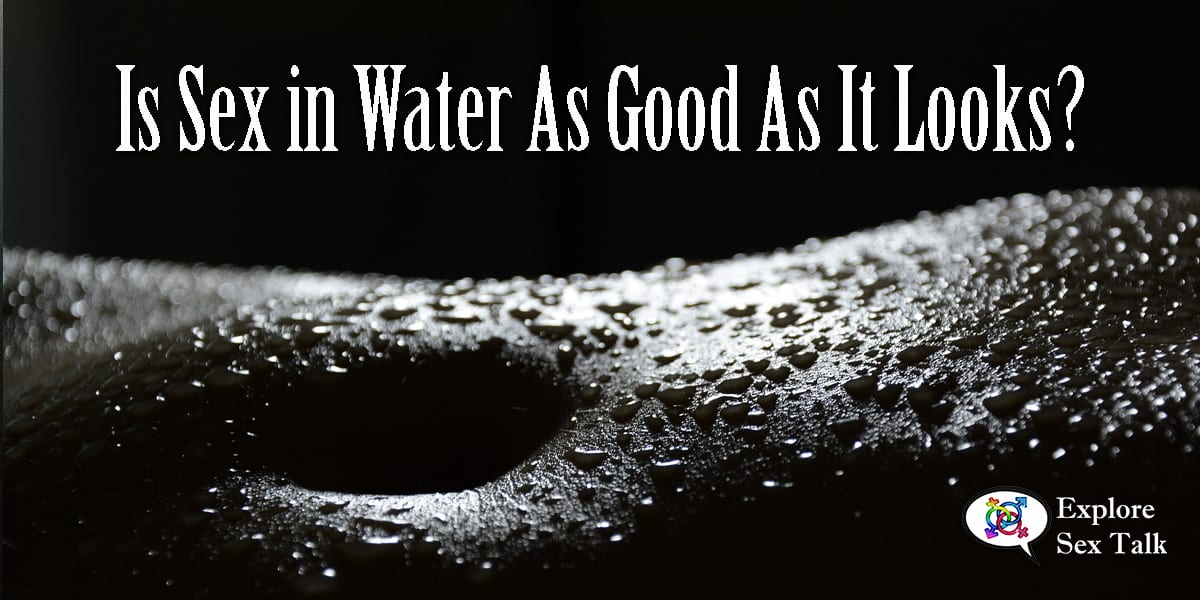 Have you ever seen one of those scenes in the movies where a couple is overcome by passion and falls into the ocean or a pool and has passionate sex? Or maybe that couple having mind-blowing sex in the shower or an intimate and romantic bath? So is sex in water really good? Are you missing out??? Is water a good sexual lubricant?
The Body Produces Natural Lubricants
Fantastic sex is often described as wet because our bodies produce lubricants during sex. Vulvas will produce a varying amount of sexual fluids depending on the level of arousal that a person feels. At a base level, the vulva will generate fluid to provide some protection against friction that could be damaging. How much fluid is released depends on a person's biology. As the vulva person becomes more aroused, the vulva will respond by releasing more sexual fluid. As a general rule of thumb, the higher the level of arousal the more sexual fluids that are produced, however, this will always vary from person to person as well as change throughout their lifespan.
The penis also releases fluid during sexual activity and not just the cum associated with orgasm. Penises also produce fluid commonly referred to as pre-cum. As with vulvas, how much will vary from person to person based on their biology and age and also likely to change throughout their lifespan.
So Is Sex in Water Good?
So if more wetness is better, then water must automatically be good right? The answer is actually no. Water has a different type of makeup than the fluids our bodies produce. Our bodies respond differently to water. When we have continued exposure to water, our skin can start to get numb. Think about your fingers when you've been in the water for a while, they get all pruney! Our genitals have a similar reaction except they don't get wrinkly. We just tend to lose a bit of sensation in those areas.
Another downside of having sex in water is that the water is likely to wash away all those helpful and pleasurable lubricants that our bodies produce. Without those natural lubricants, we are only left with the numbing water.
Depending on where we are engaging in water sex, the water may also contain chemicals, pollutants, or bacteria that are now being forced into sensitive areas of the body. This exposure during sexual activity can increase the risk of irritation and infections.
There Are Better Sexy Experiences than Sex in Water
So are you missing out on water sex? The reality is that you can have more mind-blowing sexual experiences trying other things. The main reason that water sex persists in the movies is that the movies are limited to visually trying to portray a feeling. The look of it is often sexier than it is sexually pleasing for more people.
Enjoyed this article? Show some love and share it! You can also show us some love by leaving us a testimonial! If you never want to miss one of our new and fabulous articles, join our mailing list. Our regular posts can help you build your knowledge to improve your sex life and have better relationships. If you really want to up your sex game, you can join our Sexy Hero Society for exclusive content. If you're looking to improve your knowledge in a specific area, you can also check out what we currently have available for online courses. We also have some thought-provoking as well as scandalous items in our online shop where your patronage helps us fund future research. So how do you want to grow your sex skills? Choose what works for you and make your mark!