Suffering Emotional Blackmailer
Posted by

Categories

Emotional

Date

April 7, 2020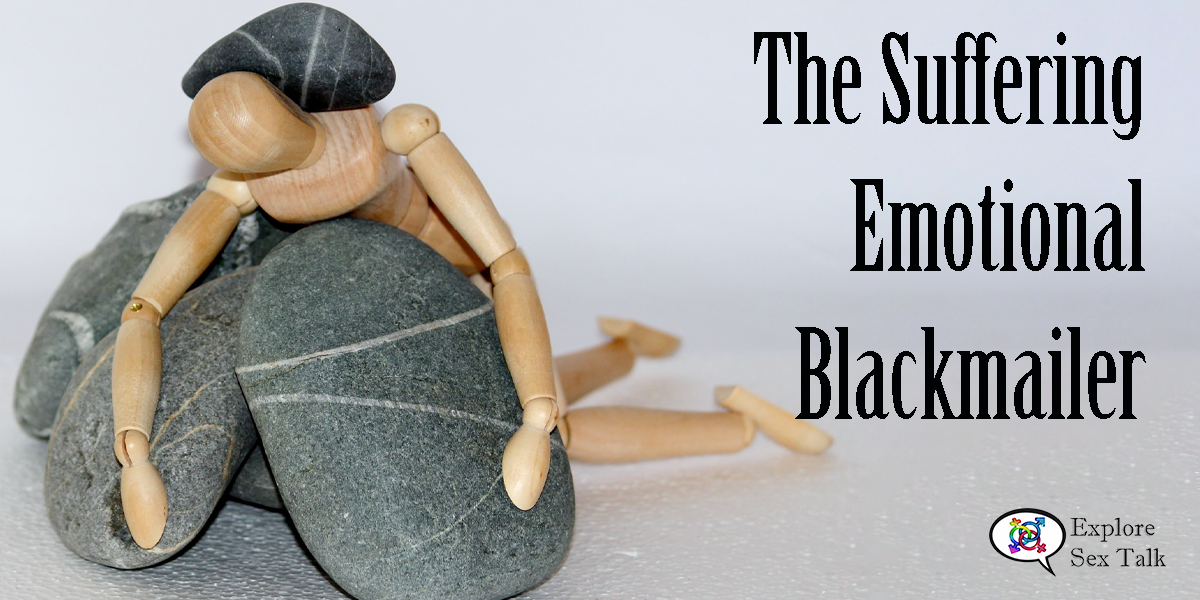 For many of us, it's hard to witness suffering, particularly if it's someone we love. Some kinds of emotional blackmailers take advantage of that and use it to manipulate us to their will. Enter the suffering emotional blackmailer. This type of emotional blackmailer really focuses on feeling miserable. They can seem sick, unhappy, or just plain unlucky but the only remedy they see is for us to give in to their will. If someone resists this, it quickly becomes apparent that their suffering is our fault. We are made to feel like the sole cause of their pain and discomfort and all because we said no or set a boundary.
The Unspoken Look What You've Done
Many suffering emotional blackmailers have become masters of body language communication. Many of them don't go to say that their suffering is your fault but will instead use their body language and actions to send the message. They may appear depressed, mute, teary-eyed, or just withdrawn. There can be a huge and dramatic show of emotions while the suffering emotional blackmailer puts on a show of pretending like they aren't trying to make a big deal about it. Pretending to suffer in silence if often a highly effective tool for the blackmailer as it can cause their victim to question if they are actually being unreasonable in denying the blackmailer.
Some blackmailers will not only withdraw emotionally but also physically withdrawing. They may refuse to interact with their victim or be in the same room as them. They may go for a big show of how awful they feel before retreating to a locked room or going for a walk. This gives the blackmailer time to let their victim stew in how awful they must feel.
Often all this nonverbal communication goes hand in hand with a lack of actual communication. In many cases, the victim may not even know what the blackmailer wants. The suffering emotional blackmailer often uses this inability for their victim to read their mind as proof that their victim doesn't actually care enough to know. It's one way of twisting the emotional knife and enticing the victim to bend to the blackmailer's will.
Suffering Emotional Blackmailer, "But I'm just a victim of circumstance!"
Not all suffering emotional blackmailers suffer in silence. Some of them will happily, and often unasked, recount in great detail their pain and misery. They lay every detail of every misfortune at our feet and give us ample chances to jump in to help. If we don't jump right in, they will begin to tell us how this one tiny thing they can do for us will be like unending sunshine on their world. We can change everything that's gone wrong. If they're not thriving and getting what they need from us, we are only contributing to their unfortunate situation. We are the block to them achieving happiness.
These kinds of suffering emotional blackmailers love to tell us how the deck is really stacked against them and that we are all that stands between them and some major and horrible outcome. They describe it as just needing a small break in order to just turn everything around and if they don't get that break they never will be able to. They make it easy for us to feel like a hero for providing whatever they need for that small break. Of course, for a suffering emotional blackmailer, this is not the end. They will return with another request and another and most of the time the requests become larger and more significant.
Caring for a Suffering Emotional Blackmailer is a Full-Time Job
When we fall victim to caring for a suffering emotional blackmailer, taking care of them can easily morph into a full-time job. Giving in once is never enough and they will continue to make us the focal point of all their suffering and only remedy for happiness. It's important that we learn to identify the signs and are able to set appropriate boundaries for ourselves.
Enjoyed this article? Show some love and share it! You can also show us some love by 
leaving us a testimonial
! If you never want to miss one of our new and fabulous articles,
join our mailing list
. Our regular posts can help you build your knowledge to improve your sex life and have better relationships. If you really want to up your sex game, you can join our 
Sexy Hero Society
 for exclusive content. If you're looking to improve your knowledge in a specific area, you can also check out what we currently have available for 
online courses
. We also have some thought-provoking as well as scandalous items in our 
online shop
 where your patronage helps us fund future research. So how do you want to grow your sex skills? Choose what works for you and make your mark!