Tantalizing Emotional Blackmailer
Posted by

Categories

Emotional

Date

May 5, 2020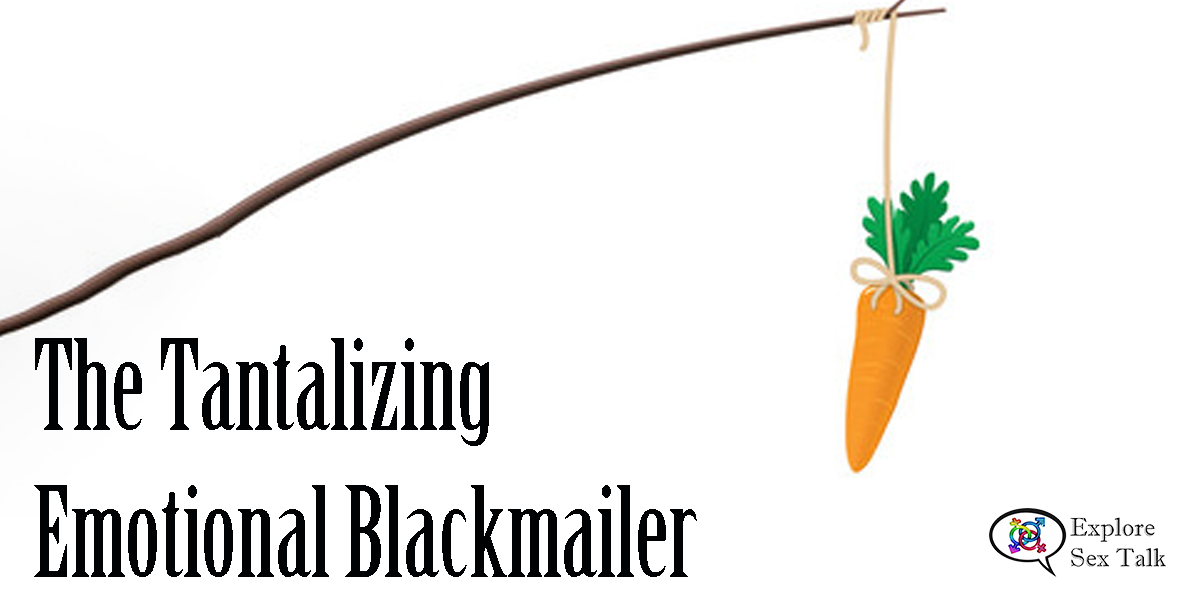 Out of all the different types, the tantalizing emotional blackmailer is the most subtle. This type of abuser manipulates through the use of promises of great rewards for jumping through their hoops. The rewards can be anything from promises of money, career advancements, material possessions, or even the promise of their undivided attention, acceptance, and love. They will sometimes buffer this by making smaller concessions that are easy for them in order to keep the promise of the real prize feel like it's within grasp. Whatever carrot the tantalizing emotional blackmailer dangles is something their victim never gets anywhere actually near. Instead, the victim jumps through a series of hoops and challenges to prove their worthiness, often without even realizing they are being emotionally blackmailed.
The Tantalizing Emotional Blackmailer's Price of Admission
Many of us are familiar with the concept of a little pain now for larger gains later on. In many cases, this is often a good choice for us. Saving up for that something special we wanted or choosing to pass on favorite foods in favor of a healthier diet. The tantalizing emotional blackmailer capitalizes on that concept and uses it to their own advantage. They ask for our sacrifice ahead of time in order for them to be able to get us whatever we value.
This type of blackmailer will often combine the enticement with flattery and encouragement. They make us believe that they can easily see us succeed in our goals and that they are here to support us. Their support just requires certain concessions. As with many other forms of abuse, the requests start small and continue to grow the more that we give in. If we start to lose hope that the reward is coming, they are quick to jump in with encouragement and tell us how close we are. This can continue for quite some time before the victim realizes that the reward will never come, only more promises.
Mending of Fences and Reconciliation
Some of the most intense forms of this form of abuse come from loved ones that we are estranged with. Our need to mend a broken relationship with someone important to us can be a powerful motivator. The more we value that reconciliation and mending of fences, the easier it is for the tantalizing emotional blackmailer. Depending on how strongly we desire that repaired relationship, they can simply allude to things potentially becoming better. Some victims guilt themselves into it further by believing it is their responsibility to mend the relationship and therefore they should give in to the demands. After all, isn't whatever they ask a small price to pay for the reconciliation? Many unhealthy family dynamics can develop this way if one person is an emotional blackmailer.
Setting Healthy Boundaries Helps Keep You Safe
The promise of something wonderful is something many of us would reach for and there's nothing wrong with that. That's one of the reasons that this type of emotional blackmail is so subtle and often so effective. Not everyone who promises us rewards and offers support is going to be a blackmailer but we still need to watch out to protect ourselves. One of the best ways we can protect ourselves is to establish and maintain healthy boundaries. We need to decide for ourselves what we are willing to do for what we want and be aware of that. Is it worth the cost? And is there just another cost coming? Be aware of where you stand, it makes it harder to be swept in by a tantalizing emotional blackmailer.
Enjoyed this article? Show some love and share it! You can also show us some love by 
leaving us a testimonial
! If you never want to miss one of our new and fabulous articles,
join our mailing list
. Our regular posts can help you build your knowledge to improve your sex life and have better relationships. If you really want to up your sex game, you can join our 
Sexy Hero Society
 for exclusive content. If you're looking to improve your knowledge in a specific area, you can also check out what we currently have available for 
online courses
. We also have some thought-provoking as well as scandalous items in our 
online shop
 where your patronage helps us fund future research. So how do you want to grow your sex skills? Choose what works for you and make your mark!