The Self-Punishing Emotional Blackmailer
Posted by

Categories

Emotional

Date

January 8, 2020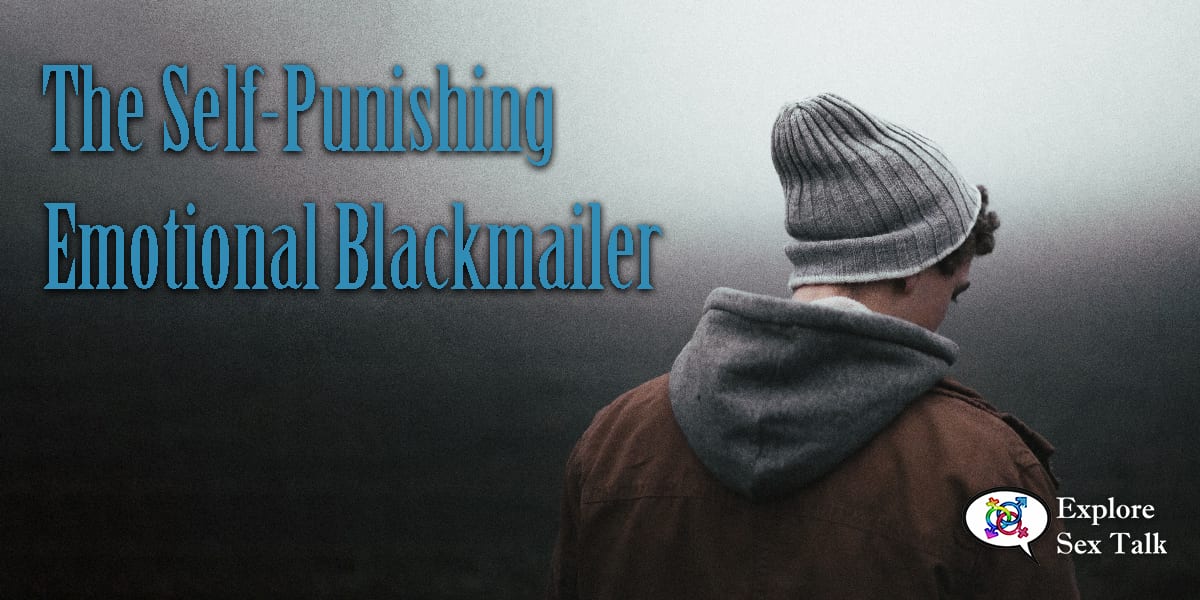 Who would use the threat of self-punishment to get what they want? The truth is many people have tried it in various forms. Have you ever seen a kid in the middle of a tantrum who's threatened to hold their breath until they turn blue unless the parent gives in? Did you ever do that as a kid? Most people have done this, experienced it, or both throughout their lives. The blue-faced threat is a very simple and obvious example of a self-punishing threat an emotional blackmailer would use. The threats used by an adult engaging in self-punishing emotional blackmail tend to be much more sophisticated but the foundational principle is the same. You give in to their demands or grave harm will befall them… and it will be your fault!
Self-punishing emotional blackmailers tend to be quite needy and dependent. They surround themselves with crisis and drama and look to their target to be the one to solve the problem, even though the drama is frequently fabricated. They make their target feel responsible for everything that happens to them. They cast their target into the role of the only real adult in the relationship that needs to protect them at all costs. There are a couple of common tactics that a self-punishing emotional blackmailer may rely on. It's important to be on the lookout for these signs.
Self-Punishing Tactic 1: You'll Ruin My Recovery
People can be struggling with a number of issues that they feel they cannot face alone. While it's important to be able to be supportive to friends and family during difficult times, this can be one of the tactics used by emotional blackmailers to coerce their targets into giving in. It can be quite powerful due to our strong desire to be supportive of people in our lives and a self-punishing emotional blackmailer will often use this to full effect.
Often there will be no question of the support the target provides, regardless of the type of support that is given (financial, emotional, etc). However, if the target tries to set a limit the emotional blackmailer will immediately jump in with strong accusations of lack of support. They will threaten or allude to an immediate and upcoming relapse or complete loss of any progress they have made with their struggle. They will also make it clear that this fresh struggle will be because of their target.
Tactics like this often feel like they are going right for our jugular. Many people feel like they are between a rock and a hard place. They don't want to see their loved one experience any more hardship any more than they wish to feel like they are too uncaring, callous, or hard-hearted to help. It's important to remember that this vulnerability is often a camouflage that self-punishing emotional blackmailers use. The choice to succumb to whatever they are struggling with is the choice of that person and at the end of the day, they are the only ones to make it. It's also important to note that a support network should be available. No one is, or ever should be, solely responsible for the support of someone facing any of serious struggles, whether it's with addictions, mental health, or something else. People should have a network of people they can reach out to, ask for help, and be connected to. If the blackmailer isn't willing to reach out to anyone else, the question should be why and regardless of the answer, it doesn't mean that you can't set healthy boundaries for yourself.
Self-Punishing Tactic 2: Ultimate Self-Punishment
The threat of self-harm can be a common threat for an emotional blackmailer. These threats are always serious and should be taken seriously, even more so if they escalate to threats of suicide. Sometimes these threats will be flippant comments only said when the target says something the blackmailer doesn't like. Flippant remarks can be hard to address because someone can just say that they were joking or that they didn't mean it. The words take their toll though and often have the effect the blackmailer is looking for, the target gives in.
The threat of self-harm should always be addressed, whether or not it was said flippantly. It's not a matter to joke about and the fact is that they may actually need real support. This doesn't mean that you need to give in to the demands of a blackmailer. How the situation is handled does depend a lot on the context of the situation and threat.
A good start is to get more information from the person. If they plan to self-harm or commit suicide you can ask the following questions,
Do they have a plan? If so, what is it?
What will they use?
What date/time do they intend to carry out their plan?
Where do they intend to do this?
What part of their body are they planning on hurting?
(If self-harm) Do they have a safety plan if something goes wrong?
Some people feel these kinds of questions might be triggering for a person who is suicidal but the reality is that someone who needs help will have already thought about these and probably have answers to them. Someone who isn't sure isn't at as great of a risk of suicide and won't be because they were asked these questions. Getting as much information about their thoughts and intentions is important. If you feel the situation calls for it, or you feel its beyond your ability, reach out to 911 or the Suicide Hotline (1-800-273-8255) for help. You can take the threat seriously, connect the person with support, and still maintain the healthy boundaries that you've chosen to set.
The Only Power Emotional Blackmailers Have Is What You Give Them
No matter what kind of emotional blackmailer you are facing, it can be a nerve-racking experience. The important thing to remember is that you have choices, just like they do. Choosing to give in to the blackmail won't make things any better in the long run. If anything, it will make it more difficult to break free of it down the road. Don't be afraid to set and maintain healthy boundaries for yourself in your relationships whether they are romantic or platonic.
Enjoyed this article? Show some love and share it! You can also show us some love by leaving us a testimonial! If you never want to miss one of our new and fabulous articles, join our mailing list. Our regular posts can help you build your knowledge to improve your sex life and have better relationships. If you really want to up your sex game, you can join our Sexy Hero Society for exclusive content. If you're looking to improve your knowledge in a specific area, you can also check out what we currently have available for online courses. We also have some thought-provoking as well as scandalous items in our online shop where your patronage helps us fund future research. So how do you want to grow your sex skills? Choose what works for you and make your mark!