Sex Talk
Sexual Objectification
Is Objectification Always Bad?
December 29, 2022

Posted by:

Explore Sex Talk

Category:

Abuse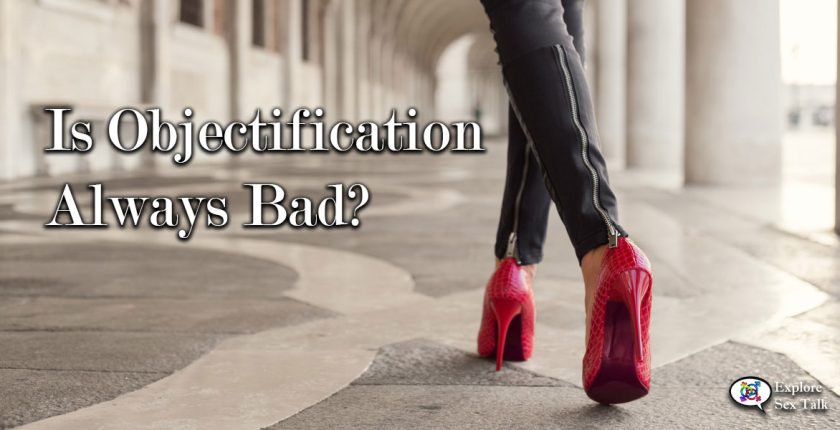 Is objectification always bad? No, objectification is not always bad. Like so many other things in life, it is how it is used, how people feel about it, and whether or not someone is consenting.
When used in a consensual context, objectification can help people to feel comfortable in their own skin and to feel confident in their own bodies. It can help build self-esteem by providing external validation and connection. Consensual objectification can also help people to appreciate the beauty of the human body.
Can Objectification Ever Be Empowering?
In a culture that is increasingly driven by social media and self-promotion, it is no surprise that people are becoming more conscious of their personal appearance and how they are perceived by others. For some, this can be empowering, as they use their physical appearance to attract attention and admiration.
When we feel good about ourselves and present ourselves in certain ways to the world, whether it's through our actions or how we dress, it can feel good to have people respond to that. In some cases, it can actually be a letdown if we are trying to impress and no one appreciates it.
The reality is that most often, that response is objectification from the point of view of the beholders. They are in the active act of objectifying the empowered person because most people will not see past their own desires and needs. The appreciation is typically not one that appreciates the whole of a person, just what's being displayed or shown at that moment. That doesn't mean that it can't be empowering for the person being objectified by others. The crucial and critical component here is, as always, consent.
Can Objectification Be Fun and Playful?
For some people, objectification can be a fun form of fetish play. They can enjoy serving as objects in a play context for a short period of time. This can be a way for them to explore their submissive side and to feel sexually excited and desired.
Objectification play can involve being dressed up or made up in a way that makes the person feel like an object, being placed on display, or being used for someone's sexual pleasure. It can be a very freeing and empowering experience for those who enjoy it.
Once again, the critical component here is consent by everyone involved in this type of play.
Remembering that Consent is Key
Objectification doesn't always have to be bad but it is only ok when the person being objectified is consenting. This means that they are comfortable with the way they are being treated and are not being forced into anything. If you are unsure, always ask for consent before proceeding. Keeping consent at the center of our interactions with others is how we can build a society where everyone feels safe and valued.
Enjoyed this article? Show some love and share it! You can also show us some love by leaving us a testimonial! If you never want to miss one of our new and fabulous articles, join our mailing list. Our regular posts can help you build your knowledge to improve your sex life and have better relationships. If you really want to up your sex game, you can join our Sexy Hero Society for exclusive content. If you're looking to improve your knowledge in a specific area, you can also check out what we currently have available for online courses. We also have some thought-provoking as well as scandalous items in our online shop where your patronage helps us fund future research. So how do you want to grow your sex skills? Choose what works for you and make your mark!
Author:Explore Sex Talk
Teela Hudak is founder and CEO of Explore Sex Talk. She wants to connect you with the important information you need to know about sex, sex education, and relationships. She seeks to make it easy for you to ask questions about an area of life that people are usually embarrassed by. Sex is fun, why shouldn't learning about it be? Get over your discomfort and join the open conversation now!