What is Objectification & How Does it Impact Us
October 27, 2022

Posted by:

Explore Sex Talk

Category:

Abuse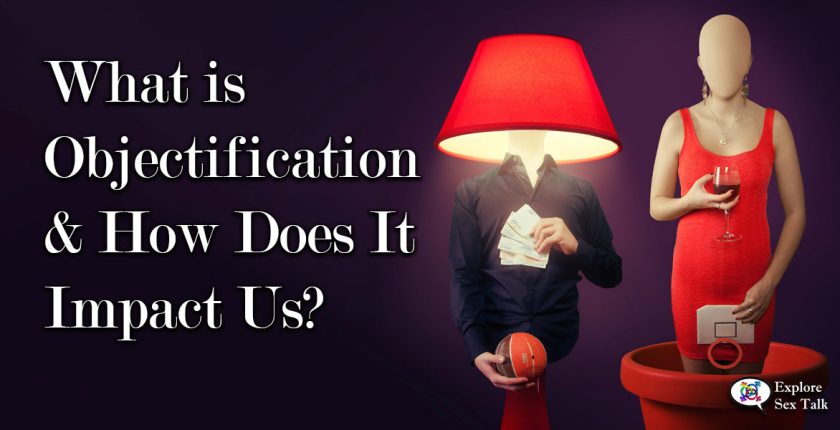 In our culture, people are constantly bombarded with images and messages that tell them their worth is based on their appearance and their ability to please others. Cis-gendered women, in particular, are constantly surrounded with images and messages that promote the idea that their value lies in their physical appearance and their ability to please men. This is called objectification, and it's a real problem. Not only does it lead to unrealistic expectations and body image issues, but it can also have a serious impact on our mental and physical health. It's time to start talking about objectification and how it can impact us.
What is Objectification?
Objectification is the process of turning someone into an object. This can be done for various reasons, including to make them feel less important, to make them feel more sexual, or to make them feel like they are not in control. When someone is objectified, they are often treated as if they are not a human being, and their feelings and needs are ignored. The person objectifying someone else often completely disregards the person's identity, personality, and often even their own sense of mind.
When someone is objectified, they are often seen as a one-dimensional object or concept in the eyes of the objectifier. Instead of being a whole person, they become a generalized thing, indistinguishable from others classified in the same group, like an apple or a table. They cease to have any value except for the perceived value or function of use.
What Can Objectification Look Like?
Sadly, someone doesn't have to look too hard to see examples of objectification. Advertising objectifies women all time by reducing women to sexual objects in advertising to sell. We see this frequently when ads feature only a portion of a woman's body, highlighting particular body parts only, or when the woman is posed in a hypersexual fashion next to or incorporating what is being advertised. These are the most apparent and easy-to-spot forms of objectification but they have contributed to more commonplace and everyday forms as well.
Objectification can take more subtle forms that occur frequently and are often left unchallenged. Examples can include when women are judged solely on their physical appearance or are treated as if they exist only for the pleasure of others. If you listen to common "locker room talk" banter or what's considered "appropriate" talk among young cis-gendered heterosexual men about women, the language is rooted in objectification and rarely includes discussing women as real people.
Cis-gendered women are not the only people who end up being objectified, they are simply one of the more widely targeted groups. Anyone of any gender can be objectified and we are starting to see more of this happen to other gender groups.
How Can This Impact Us?
In a world that is constantly telling people that their value lies in their appearance and sexuality, it's no wonder that so many of us struggle with self-esteem and body confidence issues. Objectification can impact the way we see ourselves, the way we express ourselves sexually, and how we pursue relationships.
When our self-worth is based on how others perceive us, it's easy to get caught up in a never-ending cycle of comparing ourselves to others and trying to meet impossible standards. This can lead to feelings of inadequacy and worthlessness. We may start to believe that our worth lies solely in our physical appearance and sexual desirability, which can cause us to make unhealthy choices in our quest for validation from others. It can also place barriers that prevent us from developing healthy and fulfilling relationships with others, romantic as well as platonic.
As a society, we also suffer consequences from the ongoing objectifying messages we are exposed to. It's normalizing and creates more tolerant spaces for that type of thinking and talk. Normalization of these attitudes contributes to sexism and rape culture as well.
Being Mindful of Objectification
In a modern society where objectifying messages are almost everywhere we turn, it's up to us to be mindful of what media we consume and how that impacts us. We need to remain thoughtful about how things are presented and honest with ourselves on how it's making us feel. From there we can make decisions about what types of things we will support and play a more active role in our everyday discussions. Being aware is the first step and how we can begin to seize control of how we feel about ourselves.
Enjoyed this article? Show some love and share it! You can also show us some love by leaving us a testimonial! If you never want to miss one of our new and fabulous articles, join our mailing list. Our regular posts can help you build your knowledge to improve your sex life and have better relationships. If you really want to up your sex game, you can join our Sexy Hero Society for exclusive content. If you're looking to improve your knowledge in a specific area, you can also check out what we currently have available for online courses. We also have some thought-provoking as well as scandalous items in our online shop where your patronage helps us fund future research. So how do you want to grow your sex skills? Choose what works for you and make your mark!
Author:Explore Sex Talk
Teela Hudak is founder and CEO of Explore Sex Talk. She wants to connect you with the important information you need to know about sex, sex education, and relationships. She seeks to make it easy for you to ask questions about an area of life that people are usually embarrassed by. Sex is fun, why shouldn't learning about it be? Get over your discomfort and join the open conversation now!