What is Testosterone and What Does it Do?
Posted by

Categories

Anatomy

Date

October 19, 2018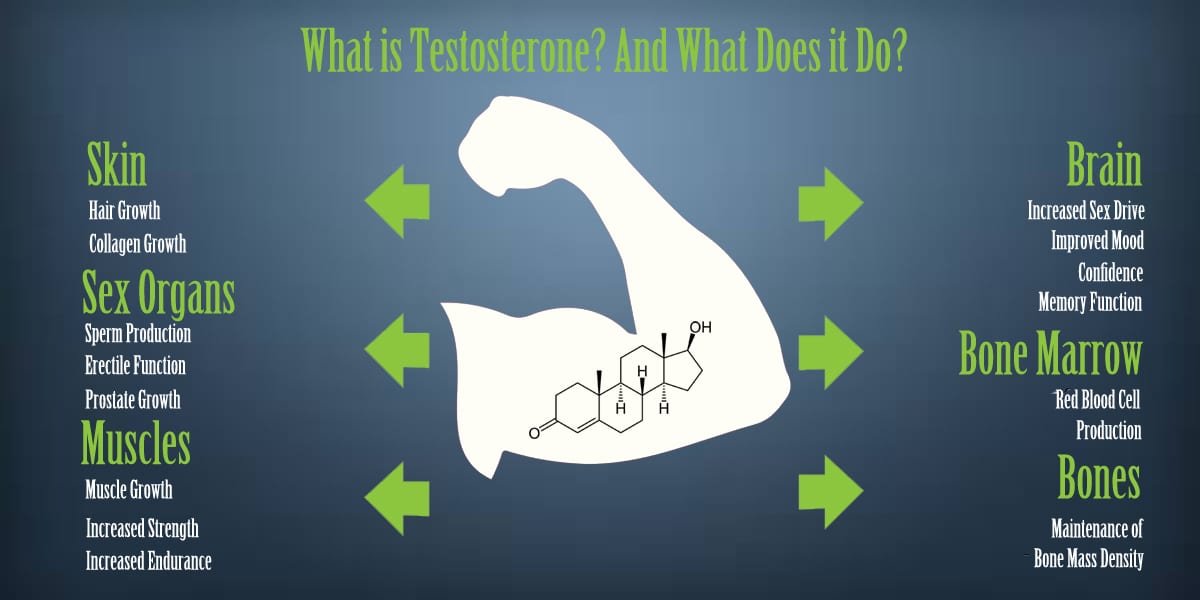 Testosterone is a type of androgen hormone. Hormones are like small chemical messengers that produce changes in our bodies. Testosterone is a very important hormone because of the many important functions it performs.
Most people think automatically of men when we are talking about testosterone. This has led it to be called primarily a "male hormone" but that's not the whole story. It's true that men, and anyone with a penis and testicles, will produce more testosterone than others but the ovaries also do produce this hormone, just in smaller quantities. We have also learned that everyone produces a small amount of testosterone in the pituitary gland, located at the base of the brain.
Since everyone produces a certain amount of testosterone, what does it do for our bodies?
Testosterone's Role in the Body When Produced in the Testicles
The body actually starts to begin to produce testosterone in the womb. It is what helps the body develop the primary sex organs and some of the muscles. Testosterone is continued to be produced as the child grows. Once puberty begins, the testicles begin to produce higher levels of the hormone.
The higher level of testosterone is instrumental in helping the penis and testicles grow, deepening the voice, growing body hair, and causing a growth spurt. Levels of the hormone impact sex drive, bone mass, distribution of body fat, red cell production, as well as the size and strength of the muscles.
After puberty, testosterone continues to play an important role in the body. It is also crucial to the production of sperm. If levels of testosterone are too low, it can cause infertility because the body doesn't have what it needs to be able to produce sperm. Low levels can also account for a lower libido, erectile dysfunction, reduced muscle mass, hot flashes, or hair loss. Normal testosterone levels in people with testicles are around 280 to 1,100 nanograms per deciliter (ng/dL).
Testosterone's Role in the Body When Produced in the Ovaries
Testosterone is usually produced fairly equally between the ovaries and the pituitary glands and also begins during the fetus' development in the womb. As the ovaries produce and use more estrogen, testosterone produced is only a fraction of what is produced by the testicles.
Despite the ovaries needing less testosterone, the hormone does fill some important functions. It is still responsible for helping the body produce red blood cells, plays a role in fertility and sex drive, as well as impacts the muscle and fat distribution.
According to the University of Rochester Medical Center, a person with ovaries should have a total of 15–70 nanograms per deciliter (ng/dl) of testosterone in her blood. If the level of testosterone is too high or low in a person with ovaries, it can have a range of side effects.
Low testosterone can cause a reduced sex drive, fatigue, increased risk of bone fragility, and other health conditions. Conversely, if the levels are too high it can cause irregular periods, infertility, excessive hair growth, skin problems, or ovarian cysts.
The Power of Testosterone
Testosterone performs a lot of import functions in our bodies, no matter what gender you are. The hormone plays an important role in fertility as well as our general health. When it is in the wrong balance in our body, it can cause all kinds of problems. Learning about these aspects of sexual health is an important part of keeping ourselves healthy and happy for as long as possible.
Enjoyed this article? Show some love and share it! You can also show us some love by leaving us a testimonial! If you never want to miss one of our new and fabulous articles, join our mailing list or join us on FB Messenger. Our regular posts can help you build your knowledge to improve your sex life and have better relationships. If you really want to up your sex game, you can join our Sexy Hero Society for exclusive content. If you're looking to improve your knowledge in a specific area, you can also check out what we currently have available for online courses. We also have some thought-provoking as well as scandalous items in our online shop where your patronage helps us fund future research. So how do you want to grow your sex skills? Choose what works for you and make your mark!