Sex Talk
Birds & Bees Made Easy
Episode 9: What is the Clitoris?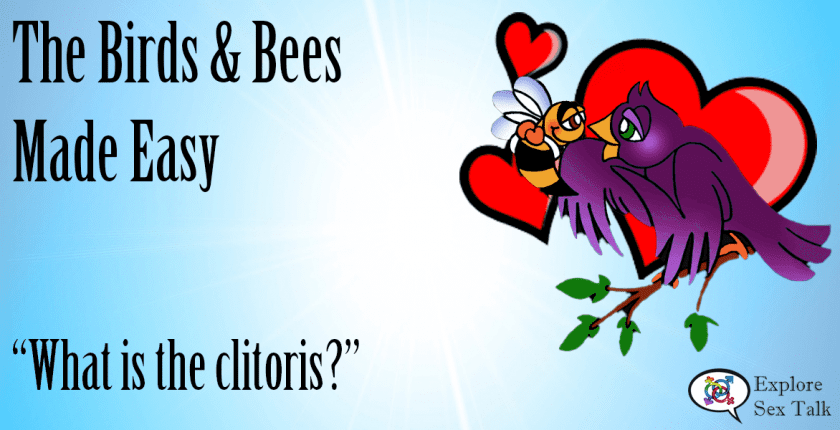 Does the idea of discussing sexual anatomy have you shaking in your boots? It shouldn't! Bodies are perfectly natural and so is sexual anatomy.
It's ok to discuss anatomy without assigning judgment and shame to it.
Being Honest About the Clitoris
The clitoris tends to be super taboo for many people. Some people are ashamed to admit that it even exists while others feel uncomfortable by all that we don't actually know about the vulva pleasure center.
If ever presented with this question, it's always a good idea to be honest. You don't have to give in-depth answers but you don't have to hide the truth from your children either. Keep the answer simple and consistent with their level of interest in the subject.
As children, they don't need to know detailed specifics about the clitoris. It's not something many kids will even ask about unless they hear the word somewhere. However, being honest it's an important part of building trust and knowledge that they will need when they grow into mature adults who have sexual experiences.
Building Good Foundations for Sexually Healthy Adults
If we want our children to grow up to have happy, healthy, and well-adapted relationships we have to help them understand sex and sexuality. How we talk about subjects that are typically taboo communicates a lot to our child. If they don't have safe spaces to ask questions about such things, they will try to find the answers elsewhere and these answers may misguide them or lead them astray.
Enjoyed this article? Show some love and share it! You can also show us some love by leaving us a testimonial! If you never want to miss one of our new and fabulous articles, join our mailing list. Our regular posts can help you build your knowledge to improve your sex life and have better relationships. If you really want to up your sex game, you can join our Sexy Hero Society for exclusive content. If you're looking to improve your knowledge in a specific area, you can also check out what we currently have available for online courses. We also have some thought-provoking as well as scandalous items in our online shop where your patronage helps us fund future research. So how do you want to grow your sex skills? Choose what works for you and make your mark!
Author:Explore Sex Talk
Teela Hudak is founder and CEO of Explore Sex Talk. She wants to connect you with the important information you need to know about sex, sex education, and relationships. She seeks to make it easy for you to ask questions about an area of life that people are usually embarrassed by. Sex is fun, why shouldn't learning about it be? Get over your discomfort and join the open conversation now!