Should You Send Nudes?
July 9, 2019

Posted by:

Explore Sex Talk

Category:

Dating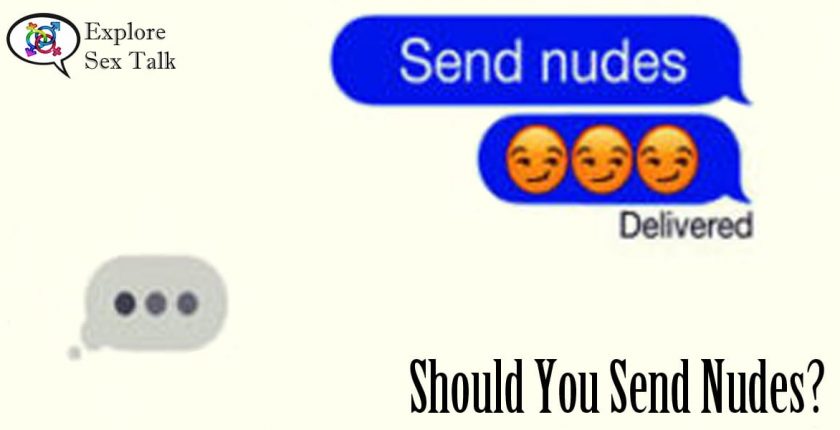 "Send me nudes ;-)"
At one point or another, every woman has received one of these messages. Sometimes they're polite, sometimes they're explicit. They come sometimes out of the blue and sometimes from people we know well. Regardless when, where, how, or from who we get them, the decision remains as what to do about it.
Sending a sexy video or photos can be really fun and empowering but it doesn't come without risks. Especially in today's day and age, you have a lot less control. Once something is recorded and sent to someone else you don't have a lot of say. There is nothing wrong with exploring your sexuality and choosing to take some risks. It is important, though, that you are aware of the possible outcomes.
What are the Risks of Sending Nudes?
There are a number of reasons why sending nudes can be risky but they all pale in the face of the main two risks.
What is meant to be private may not end up staying private. Depending on the character of the person you're sending them to, they may not keep your nudes confidential. They also may not feel that they have to. Some people feel entitled about getting nudes or they may feel like it's not a big deal because of the easy availability of porn online. They may share it with their friends or it could even go so far as your nudes being posted publicly online. This type of betrayal can be completely devastating. Past stories where this has happened, it did escalate to bullying and tragedy.
The other biggest factor to consider is that the internet never forgets. The person you send the nudes to may not pass them on to anyone else or may only share privately and it may not be a big deal at the moment. Most photos and videos are shared using the internet. It doesn't matter if this is through email, message app, or a social media app, there is the possibility of the image or video being stored. Even in the case of apps like Snapchat, a determined or savvy user can still capture the content to make it last longer. This may be innocent and never be a problem but you need to be aware that somewhere down the road it's possible for these photos or video to come out publicly. The question is, are you going to be OK with that down the road?
…Are You Distributing Porn?
By its very definition, pornography is any media that is meant to arouse or is sexual in nature. Many people ask for nudes because they want to be aroused. Since this is the intent, the argument could be made that you are making and distributing porn. Erotic media can be a good supplement to a couple's sex life. Making your own videos may be a sexy and fun way to spice things up. If you're choosing to do this, you need to make sure that you're aware of the pornography laws in your area. There is a wide variety of opinions about pornography across the world. In some places, such actions carry significant and heavy penalties. It's important to be aware of any laws where you live or in the country of the person you may be sending them too.
Another important consideration when it comes to laws is the age of the people involved. If one of the participants is underage, this may make the sending of nudes illegal. This is true even if both people are underage and close in age it's possible for charges to be laid. One or both of them could be prosecuted for making, distributing, or possessing child pornography. It depends on the laws in the area where you live.
Your Body, Your Choice! Don't Be Pressured!
Many people may feel pressured to share nudes in fear of being labeled "frigid", "prudish", or unflattering insults slung towards those who are resistant. Don't fall prey to these tactics. When someone gets abusive, derogatory, demanding, or mean when you hesitate or say no to sending nudes it's a HUGE clue that a person is only interested in their own gratification. They don't actually care about you as much as they care about their own needs. The person is just being a total jerk and they really don't deserve you. You should not be concerned with a person who has this attitude.
Consent is just as important in this kind of interaction as it is in any other sexual activity. Don't allow yourself to be bullied. If this person is unwilling to respect your consent about nudes, they may be unwilling to respect your consent in other areas as well. This is a BIG RED FLAG! Don't reward that person's bad behavior by giving them what they want and making yourself uncomfortable. You deserve better!
Empowering In Your Sexuality
Shooting nude photos or videos can be really sexually empowering. It can help increase confidence and sense of personal power. Just remember that you need to consider who you choose to share that with. You have the power to decide what level of risk your comfortable with and who is deserving of your total awesomeness!
Enjoyed this article? Show some love and share it! You can also show us some love by leaving us a testimonial! If you never want to miss one of our new and fabulous articles, join our mailing list or join us on FB Messenger. Our regular posts can help you build your knowledge to improve your sex life and have better relationships. If you really want to up your sex game, you can join our Sexy Hero Society for exclusive content. If you're looking to improve your knowledge in a specific area, you can also check out what we currently have available for online courses. We also have some thought-provoking as well as scandalous items in our online shop where your patronage helps us fund future research. So how do you want to grow your sex skills? Choose what works for you and make your mark!
Author:Explore Sex Talk
Teela Hudak is founder and CEO of Explore Sex Talk. She wants to connect you with the important information you need to know about sex, sex education, and relationships. She seeks to make it easy for you to ask questions about an area of life that people are usually embarrassed by. Sex is fun, why shouldn't learning about it be? Get over your discomfort and join the open conversation now!