How To Make Any Relationship Last
June 10, 2022

Posted by:

Explore Sex Talk

Category:

Relationships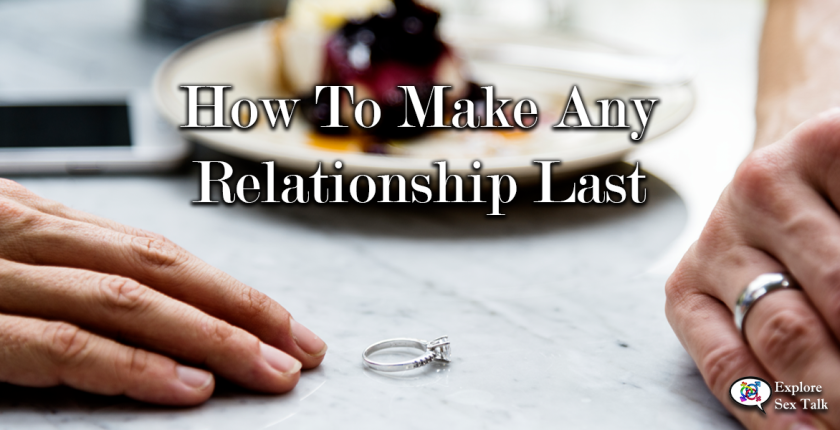 Relationships are hard. It can be difficult to know what you're doing wrong or how you should start making your partner happy again. There are, however, a few easy things that you can do to improve your relationship – and they don't even require much time or effort! In this blog post, we will discuss 7 ways that have been proven effective in improving relationships of all types.
1. Talk Openly and Honestly with Each Other
When most of us think of the ideal relationship, we imagine someone who knows us well and that we can share all of our secrets. We want to be able to be open and honest with that person and feel accepted and loved. Sadly, this is often not the reality for many couples.
If you're not communicating well with your partner, it's likely that things are going to start falling apart. One of the keys to making a relationship last is good communication and honesty. Make sure that you're both open and honest with each other about what you're thinking and feeling – even if it's complicated. It's the only way to truly connect with each other and understand what each of you needs.
As you learn and grow together, this honesty can create a stronger foundation of trust and respect that will help you and your partner navigate fights and disagreements.
2. Spend Time Together Doing Things You Both Enjoy
Life can get pretty busy and it's common for people to start to feel disconnected from their partner after the "honeymoon phase" passes. People can start to drift apart because of different interests. You don't need to share every interest with your partner or do absolutely everything together but it's important to make time for each other, even if life is busy.
Find activities that you can do together that make both of you happy – whether it's going for walks, watching movies, or cooking dinner. Just being in each other's company will help to improve your relationship and increase feelings of intimacy.
3. Express Your Love and Appreciation for Each Other
As a relationship goes on, it can become easy to forget all the little things that our partners may do for us. We are more likely to remember the effort we make for our partners than the one they make for us, especially if it's something that they do all the time. One of the best ways to combat this is to regularly express your love and appreciation for each other. It will help keep the romance in your relationship as well as keep both people from feeling like they are taken for granted.
It can be as simple as telling your partner how much you appreciate them, or simply giving them a hug when they need it. These small gestures can make a big difference as long as they are genuine and sincere.
These smaller gestures should be periodically followed up with something that makes both people feel special. This could be a specific date night or gesture that is more outside of your normal routine. These are best when it's specific and personal to the relationship as they will have a deeper meaning and deepen the sense of connection.
4. Be Supportive of Each Other's Goals and Dreams
Our relationships are one area of our lives where we like to feel supported. It can be very damaging to our sense of trust if we feel that our partner doesn't have our back. We should support each other's goals and dreams – even if they're different from your own. Your partner's goal doesn't need to be your passion and you can still provide encouragement and support to them.
How we support our partner's goals and dreams can play a huge role in how they feel about the relationship. If you can encourage and motivate each other to achieve great things, it will only make your bond stronger.
5. Make Sure You're Both Still Happy in the Relationship
If you're not happy in your relationship, it's likely that it won't last. Make sure to check in with each other regularly to ensure that both of you are still content and satisfied. If not, it may be time to make some changes. Too many couples wait until the problems become more serious before they say anything and this can lead to more intense and critical fights.
Having a regular time to check-in ensures that both people have the opportunity to voice anything that might be on their minds. It gives both people a chance to make changes before something becomes a problem that could threaten the relationship. It's important that during these check-ins both people feel safe and comfortable voicing things that are on their minds. These check-ins won't be helpful to the relationship if one or both people aren't able or willing to open up about potential trouble spots.
It's also important during these times that you work together as a team to find ways to change the things that aren't working. If there's no action following up on these check-ins to do something about what's been communicated, it is going to erode the trust in the relationship.
6. Be Willing to Compromise
Some people imagine the perfect relationship where their perfect match sees everything the way they do and there's no need to compromise because they are so in sync with each other… Sadly that is not really a reality. No relationship is perfect, and there will always be times when you have to compromise. Whether it's giving up your Saturday night plans to stay in with your partner, or agreeing to watch their favorite TV show, these small sacrifices can make a big difference.
It's important to know, for yourself, what boundaries you are willing to negotiate on and which ones are too important to you to compromise. Being prepared with this information is going to give you a better base to negotiate relationship needs in a way that you and your partner will both up happy with. The goal of the negotiation is not to get everything your way but to ensure that what's important to both of you isn't neglected.
7. Seek Help if Things Get Tough
Sometimes things can spiral quickly and a couple might need an outside perspective. If things start to go downhill, don't be afraid to seek help from a professional. A therapist can provide valuable insights and tools that can help you get back on track.
It is also just sometimes helpful to have an objective opinion to help a struggling couple get through a difficult time. The key is that both people need to feel that the opinion is objective. That is the benefit of seeing a professional over getting the help of a friend. If it is a friend, one of the people may feel that any advice is biased and therefore they will be more likely to be critical or reject any advice, even if the advice doesn't contain any bias.
If both people are still committed to making the relationship work, there can be a lot of value in seeking help from a professional. It's nothing to be ashamed of or avoided. It may be what helps the relationship get back on track and into a good place.
Fostering Lasting and Meaningful Relationships
The real secret to making a relationship last is that both people want it to last and work together to make that happen. Making your relationship last is possible with a little effort from both of you. The question is, is it worth it?
Enjoyed this article? Show some love and share it! You can also show us some love by leaving us a testimonial! If you never want to miss one of our new and fabulous articles, join our mailing list. Our regular posts can help you build your knowledge to improve your sex life and have better relationships. If you really want to up your sex game, you can join our Sexy Hero Society for exclusive content. If you're looking to improve your knowledge in a specific area, you can also check out what we currently have available for online courses. We also have some thought-provoking as well as scandalous items in our online shop where your patronage helps us fund future research. So how do you want to grow your sex skills? Choose what works for you and make your mark!
Author:Explore Sex Talk
Teela Hudak is founder and CEO of Explore Sex Talk. She wants to connect you with the important information you need to know about sex, sex education, and relationships. She seeks to make it easy for you to ask questions about an area of life that people are usually embarrassed by. Sex is fun, why shouldn't learning about it be? Get over your discomfort and join the open conversation now!