Is Sex Supposed to Hurt?
Posted by

Categories

Sex

Date

November 13, 2019

Tags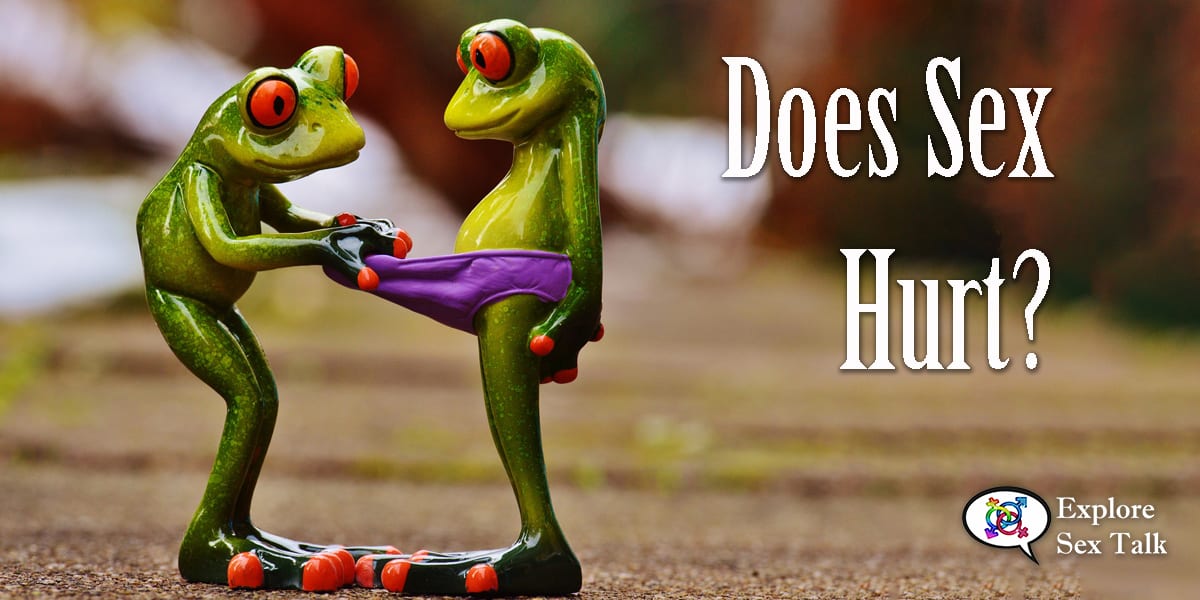 Is sex supposed to hurt? There is a common and unfortunate misconception that sex is supposed to be painful, particularly the first few times, for vulva people. This is often played off as common and to be expected. Vulva people are often told it's just something they have to deal with. The reality could not be farther from the truth! There are a number of reasons why vaginal penetration may be uncomfortable or painful but this is not the standard default by any means! So why do people keep spreading this misconception?
Why Do We Think That Sex is Painful?
The idea that sex is painful is a long-standing one. Historical research about sex has been heavily influenced by different religious values that have condemned sex as evil. The stigma impacted the amount of research done as well as limited the scientific method. In many respects, historical scientists only looked at research that validated the beliefs of the time. Anything that fell outside of this was labeled "an anomaly" and ignored in the main body of research. The impact of stigma around sex still heavily influences sex education as it stands today. The concept that sex is supposed to be painful for vulva people is rooted in the incomplete research and prejudice of the past.
We are still learning a lot about anatomy and sex. Recent research in the last few years has continued to explore new areas and questions that have previously been ignored. We still have a long way to go to find the correct answers. We also still have a long way to go about changing how sex education is delivered. Many places still teach outdated programs that rely on scare tactics and abstinence-based approaches that have long since proven ineffective. These old programs still promote many ideas that contribute to problems, one of which is the idea that sex should be painful at first.
The belief that persists also perpetuates itself. When people believe that sex is supposed to be painful, they are more likely to be tense about having it. Being nervous, fearful, anxious, or scared that sex is going to hurt can end up being a self-fulfilling prophecy. Physical intimacy is best when we can relax and enjoy it. If someone is worried about intercourse being painful, it's going to make it quite difficult to relax. The more the person tenses up, the more difficult it will be for the muscles to relax. Tense muscles can restrict blood flow and reduce the flexibility of the vaginal opening and lead to painful intercourse. Those that experience this then have the belief validated that sex does hurt. Their experience is then shared with others and continues the belief, setting up other people for self-fulfilling prophecies.
What Makes Sex Hurt?
Many of the causes of painful intercourse for vulva people can be solved easily. Which is definitely good news!
One of the most common causes of pain during intercourse is a lack of proper stimulation. When someone is properly aroused and ready to have sex, they should be sufficiently relaxed for it to be a pleasurable experience. This is one of the reasons why foreplay is so crucial. The average vulva person takes roughly 20 minutes of stimulation to achieve orgasm and many people don't find intercourse stimulating enough. If intercourse starts before the vulva person feels stimulated enough, their muscles may not be relaxed enough. Many couples, particularly those that are inexperienced, tend to rush through or skip foreplay altogether. It's important that couples take the time to make it a pleasurable experience for everyone. Nerves and anxiety can also play a huge role here and prevent the vulva person from achieving satisfaction.
Another common cause is a lack of proper lubrication. Bodies produce natural lubricants. The walls of the vagina respond to stimulation by producing liquids that moisten the vaginal opening. Everyone produces different amounts of vaginal fluid. How much fluid there is can be impacted by nerves, lack of stimulation, or estrogen levels. While most people tend to measure the level of arousal by vaginal fluid, it's important to note that everyone's body is unique. Some people will naturally produce more or less than others despite feeling the same arousal. That's one of the reasons using water-based or oil-based lubes can be a fantastic way to increase pleasure.
Sex can also end up being painful for medical reasons. Infections, irritation, tears, scarring, cysts, or any past trauma caused by sexual assault or a botched medical procedure can cause penetration to be painful. If anyone is experiencing persistent or constant pain from sex, they should be following up with their health care professional.
Sex is Meant to Be Fun!
All kinds of endorphins are released when we orgasm. This is part of what makes sex so much fun! How we perceive sex and feel about it plays a huge role in how much we enjoy physical intimacy with our partner. One way we can increase our pleasure and sex life is to examine our feelings about sex. If we can continue to improve our psychological and emotional comfort with sex, physical pleasure and satisfaction will continue to grow.
Enjoyed this article? Show some love and share it! You can also show us some love by leaving us a testimonial! If you never want to miss one of our new and fabulous articles, join our mailing list. Our regular posts can help you build your knowledge to improve your sex life and have better relationships. If you really want to up your sex game, you can join our Sexy Hero Society for exclusive content. If you're looking to improve your knowledge in a specific area, you can also check out what we currently have available for online courses. We also have some thought-provoking as well as scandalous items in our online shop where your patronage helps us fund future research. So how do you want to grow your sex skills? Choose what works for you and make your mark!