Is Masturbation Healthy?
October 1, 2021

Posted by:

Explore Sex Talk

Category:

Masturbation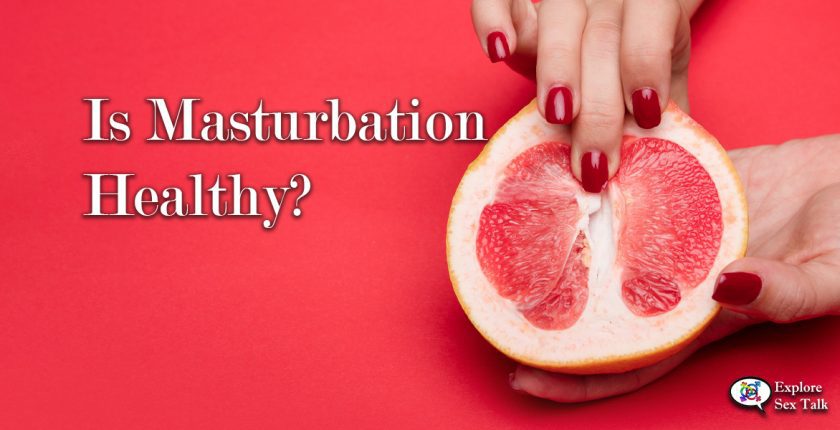 Masturbation, like other sexual activities, can be really fun, and just like other sexual activities, there are some great health benefits. Masturbation is a common part of sexuality, but some people are ashamed or ashamed of it because of outdated myths. For years, people were told that masturbation is self-abuse, will cause health problems, or even make you blind. This misinformation persists in many areas of the world today which leaves many people asking, is masturbation healthy? The short answer is a resounding YES!
Masturbation & the Mind
Masturbation not only feels good but also has several health benefits, from lowering the risk of certain diseases to increasing satisfaction with sex with your partner. It even has a positive impact on our attitudes towards life and even ourselves. Research has highlighted the mental and self-esteem benefits of masturbating.
Orgasms give us a rush of happy neurochemicals like serotonin, dopamine and oxytocin. These hormones give feelings of pleasure, satisfaction, and a sense of wellbeing. The euphoria can reduce feelings of depression and anxiety as well.
Masturbation gives us an opportunity to give ourselves these feelings and this, in turn, can increase our self-love and self-acceptance. It can be an important piece of personal care and 59% of people who masturbate weekly said they had a positive body image.
It is important to remember that mindset about masturbation plays a large role too. Those who enjoy it tend to because it can help them relax, it helps them to better understand their body, or it's a fun way to resolve sexual tension with their partner (or not). However, people who feel guilty when masturbating can have problems with chronic masturbation. For some people, a guilty conscience about why they masturbate can stop them from relaxing and enjoying it. Someone who is experiencing this side of masturbation may not get the same self-esteem and mental health benefits.
Masturbating for Healthy Vulvas
A little physical self-love has more to offer than the positive effects on our self-esteem and mental health. It can provide some physical health benefits as well.
People with vulvas who incorporate masturbation into their lives can experience decreased insomnia and a release of hormonal tension. For older people with vulvas, it can help reduce vaginal dryness. It can also help to strengthen the pelvic floor strength which can lead to stronger contractions to give a more intense orgasm.
When we touch our genitals more we are also strengthening the neural connections our brains have with our genitals. When we increase those connections, it makes it easier for us to feel connected with that part of our body and the pleasure we find there. It can make us feel more in our bodies and responsive to pleasure. Ultimately, this can make it easier to achieve orgasm.
Many people with vulvas, particularly cis-gendered heterosexual women, have been raised to see sex as something that is done to them or that they endure. They are taught about pleasure through the scope of what is pleasing to a man. This has led many of these women to have little understanding of how to pleasure themselves or simply believe that they are too difficult to satisfy sexually. Masturbation presents the chance for the person to focus on their own body and places of pleasure. It can help people understand their own bodies without guilt or shame. When women learn to cultivate pleasure through masturbation, we challenge the negative notions of sex that permeate our culture.
Self-Love Never Leaves a Cock Behind
Vulva owners aren't the only ones reaping the benefits of playing with yourself. Prostate and penis people get some benefits too! Research has found that regular choking the chicken or ejaculation through other means reduces the chances of prostate cancer.
Masturbation can help penis people increase their sexual stamina as well. It's a common concern among people with penises about premature or early ejaculation. If a person masturbates with the intention of extending their endurance and pushing off the moment of masturbation, they can extend their performance during sex as well. Most people make the mistake of masturbating with the intention of getting to the point of orgasm as quickly as possible. While this can be fine when you're focused only on your own pleasure, it does train the body to do the same during other types of sexual stimulation. The secret to increasing sexual performance and endurance for penis owners is to masturbate how you wish to perform when with a partner.
Nothing Wrong With Self Love
Masturbation is a healthy part of sexuality. It is a good way to connect with your body and learn how to unlock your own pleasure. There is nothing that needs to be ashamed or embarrassed about and as with all other areas of sexuality, it's up to you if it's something that is a regular part of your routine. It's also up to you how much you share your sexuality with others. Explore within your own boundaries and at your own pace.
Enjoyed this article? Show some love and share it! You can also show us some love by leaving us a testimonial! If you never want to miss one of our new and fabulous articles, join our mailing list. Our regular posts can help you build your knowledge to improve your sex life and have better relationships. If you really want to up your sex game, you can join our Sexy Hero Society for exclusive content. If you're looking to improve your knowledge in a specific area, you can also check out what we currently have available for online courses. We also have some thought-provoking as well as scandalous items in our online shop where your patronage helps us fund future research. So how do you want to grow your sex skills? Choose what works for you and make your mark!
Author:Explore Sex Talk
Teela Hudak is founder and CEO of Explore Sex Talk. She wants to connect you with the important information you need to know about sex, sex education, and relationships. She seeks to make it easy for you to ask questions about an area of life that people are usually embarrassed by. Sex is fun, why shouldn't learning about it be? Get over your discomfort and join the open conversation now!