How to Choose Your First Pocket Pussy
September 17, 2021

Posted by:

Explore Sex Talk

Category:

Sex Toys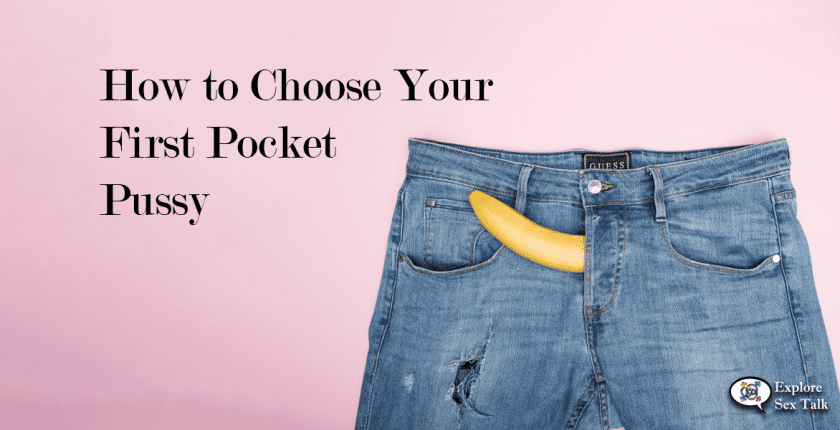 Curious about trying a pocket pussy but unsure how to pick the right one? Sex toys can be a really fun way to enhance playtime or masturbation but they definitely come with a price tag. Unfortunately, sex toys you can't really take for a test drive before buying. That makes research all the more crucial to avoid spending a lot on something that doesn't give you the sensation or feeling that you're looking for.
Many male masturbators have a realistic look and feel so that you can bring to life your favorite fantasies. Their interiors are lined with pleasure pins, ribs, tickling, and teasers to provide even more stimulation with bare hands. There are a variety of types and materials to choose from too. If you have never bought one, you may feel overwhelmed by the choice and not know where to start. As with other sexual experiences, there is no right or wrong answer for what's right for you. It really depends a lot on your personal preferences and tastes. You should choose a toy that aligns with your preferences and habits for the best experience. If you are new to buying toys, you may not have a good understanding of what you like yet and that's OK. In this article, we will go through the different types as well as important considerations for your first purchase.
Types of Pocket Pussy Sex Toys
Penis masturbators tend to break down into five basic categories: sleeve, enclosed, automatic, vibrating, and realistic. Which one you choose will depend on what type of experience you are looking for and how much money you want to invest in the experience.
The sleeve models are designed just as they sound. It's a sleeve that goes over the penis. The user can then rub the toy over their genitals causing it to feel tight in an enjoyable way. These toys have an opening at the other end to allow for ejaculation to occur outside the toy. This can be easier for cleanup and maintenance of the toy, so long as you have a handy towel nearby.
The enclosed models can be designed very similarly to the sleeves with the major difference being that they completely cover the penis and ejaculation happens inside the toy. These are some of the most popular models as they fall within a reasonable price range and are usually fairly well rated.
Automatic pocket vaginas have a number of settings. Instead of working the toy yourself, you select the speed or setting you wish and sit back and let the toy work its magic. Depending on your preferences, these can be fantastic toys but they do tend to run a bit higher in price than other models.
Vibrating pocket pussies provide different settings for the intensity of vibration as well as different patterns. This opens up a wide variety of sensations. Many of the vibration patterns are programmed to hit really sensitive parts of the penis as well.
Finally, the realistic models are for those who want something closer to a more authentic experience. They are designed to look more realistic and people are able to choose from a wide variety of options for flesh tone or hair. People can also choose whether they'd like a toy more focused on the ass, the vulva, or one that features both. These models also tend to be larger in size which can add to the authentic experience.
Aesthetic and Personal Comfort
Everyone has their own history and comfort level with sex and masturbation. When choosing a style of pocket pussy, this is something you should spend a couple of minutes thinking about. What is your comfort level with the idea of using the toy? Does it look good to you? Does it matter how it looks?
Some people have reported not enjoying some toys as much because they did not like the look of them. If this is something that may bother you, it's important to choose one that you find visually appealing. If you get one that you don't like the look of, it can be distracting or take away from the experience of using it.
Material
Toys can be made from a variety of materials but that doesn't always mean that those materials are the best. Some cheaper toys can be made of something that feels jelly-like and extremely soft to the touch. While they may seem like a good option, they can tear easily and when they are cheaply made can be quite toxic.
Some reliable materials you may wish to choose can be thermoplastic elastomer (TPE), thermoplastic rubber (TPR), or silicone. Out of these three materials, the best choice would be silicone as these toys are non-porous and easy to keep clean and hygienic.
Toys made from TPE or TPR can still work really well but require more dedication to keep clean. It should go without saying that an unclean toy can breed mold or fungus that can cause an infection where you definitely don't want one! It's critical with these types of toys that not only are they given a very thorough cleaning, but they must also be immediately dried after every wash…. even in really hard-to-reach places. So it's important to have an honest conversation with yourself regarding your own likelihood to put in the extra effort to keep TPE or TPR toys clean. If you feel this is something you might end up procrastinating on or doing a less than a thorough job, you probably want to consider a toy made out of silicone.
The other major consideration when it comes to the material of the toy is what type of lubes you enjoy using. Certain types of lube will not pair well with certain types of materials. Oil and silicone-based lubes can damage or degrade silicone so if you prefer to use these types of lube over water lubes, you should avoid purchasing a silicone toy.
Reviews
One of the best ways to figure out if a toy might be a good buy is to check to see if you can find any reviews for that toy. People who have used it will be able to tell you what they see as highlights and drawbacks. You can talk to people you know or look for reviews online. Either way, this can be one of the most valuable sources of information for your decision.
The important thing about reviews is also to weigh them against your own feelings and preferences. Try to find out as much information from the reviews as you can because it's important to remember that other people are going to have different desires and preferences. Getting more detail about what they liked about the toy is going to be more helpful in making a decision that a simple, "it's awesome", or five-star rating.
Price Does Matter
Sex toys are one of those things that it doesn't really pay to cheap out on. You tend to get what you pay for. Cheap toys can be great but they also have a tendency to break or tear really easily so it may not be worth the cost if you only get one or two uses out of it. Cheap toys might also be made out of cheap materials that can cause skin irritation. It's also possible that the cheap toys may not be body-safe and can leave toxic residues on the sensitive skin of your genitals.
You don't have to go all out for your first toy but if you want something that is going to last longer and provide a more satisfying experience, you are going to skip looking at the cheapest toys you can find. Generally, if the price seems too good to be true on a particular toy, then it probably is.
A Pocket Pussy Can Be A Fun Addition to the Bedroom
Part of the fun of enjoying sex is mixing things up with different sensations for different types of experiences. The advantage of most toys is that they can be used alone or with a partner. Either way, it can provide some variety to your sexual activities that keep things interesting and fun.
Enjoyed this article? Show some love and share it! You can also show us some love by leaving us a testimonial! If you never want to miss one of our new and fabulous articles, join our mailing list. Our regular posts can help you build your knowledge to improve your sex life and have better relationships. If you really want to up your sex game, you can join our Sexy Hero Society for exclusive content. If you're looking to improve your knowledge in a specific area, you can also check out what we currently have available for online courses. We also have some thought-provoking as well as scandalous items in our online shop where your patronage helps us fund future research. So how do you want to grow your sex skills? Choose what works for you and make your mark!
Author:Explore Sex Talk
Teela Hudak is founder and CEO of Explore Sex Talk. She wants to connect you with the important information you need to know about sex, sex education, and relationships. She seeks to make it easy for you to ask questions about an area of life that people are usually embarrassed by. Sex is fun, why shouldn't learning about it be? Get over your discomfort and join the open conversation now!