Do Jade Eggs Increase Vaginal Health
September 24, 2021

Posted by:

Explore Sex Talk

Category:

Sexual Health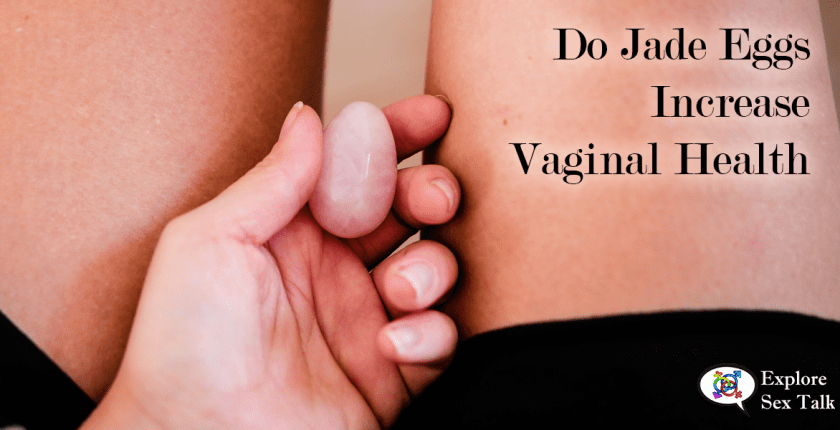 Jade eggs can be a truly beautiful piece of art. The stone, jade, has been linked with healing, balance, protection, and harmony. Some cultures have seen the stone as a means of accessing the spiritual world while others recommend the stone for its anti-aging and health properties.  There are lots of theories on the way jade can help improve the body, mind, and spirit. These theories have led to a variety of different practices ranging in intimacy. One such practice is placing jade, or other yoni eggs, inside the vagina.
What is a Yoni Egg?
A yoni egg is any stone that is shaped into an egg form. They can be made of any type of stone material but are typically made jade, quartz, or other semi-precious stones. There are some claims that they are Chinese in origin while others claim they come from a Taoist tradition but there is no confirmed documentation to trace their origins. The word itself, yoni, is a Sanskrit word for source, space, or womb. It is a word associated with divine energy as well as the vulva.
Yoni eggs are made in a variety of sizes. People use them for a variety of purposes from energy work to simply a beautiful piece of decor. Some eggs have a small hole drilled into them to allow a string or chain to be threaded through.
What Properties Do People Associate with Jade Eggs?
There are a lot of different properties and beliefs that are associated with the use of jade and other yoni eggs. Some people associate different properties with different types of stones and that affects what they recommend the yoni egg is used for. Placing a jade, or other type of yoni eggs, into the vagina has been said to contribute to
Reducing PMS symptoms such as breast pain or menstrual cramps
Boosting libido
Balancing hormones
Supporting and strengthening the pelvic floor
Increasing urinary tract health
Increasing sexual health
Stimulating the Bartholin glands of the vagina
Are Yoni Eggs Effective & Safe?
Sounds almost too good to be true right? The reality is that might just be the case.
Most medical professionals agree that yoni eggs have no medical benefit and that their use can damage your vagina. None of the false benefits of boosting libido, relieving cramps, and balancing hormones are true, and using the yoni egg can cause bacterial infections and severe pain. Taking hormonal contraceptives, increasing sleep, or taking antidepressants may be more effective in achieving these outcomes than yoni eggs. The use of the eggs can also alter the pH balance of the vagina in a way that can lead to additional infections or damage.
One aspect of yoni eggs, pelvic floor training exercises, do have some medical benefits. The exercises have been shown to strengthen pelvic floor muscles, but using a yoni egg requires that you push your vaginal muscles, which can cause damage. Using a yoni egg also runs the risk of scratching your vagina, which invites bacteria. If the egg causes even a tiny incision in the vagina, the bacteria can enter the bloodstream, increasing the risk of toxic shock syndrome.
Another risk associated with the use of a jade egg in the vagina is its porosity. Jade is so porous that it can be an easy place for bacteria to thrive which can cause bacterial vaginosis, a toxic shock syndrome, a life-threatening complication caused by bacterial infections.
There is also the concern of the egg getting stuck inside the vagina. Some recommend that a hole be drilled in the egg to allow for a string to prevent this from occurring. The problem with this solution is that if the wrong material for the string is used, it is adding additional risks of introducing harmful bacteria.
Healing Stones Are Great… Just Not Inside Your Vagina
There are a lot of really wonderful ways to use different stones for healing or a variety of other properties associated with each stone. Just like how we use certain plants and herbs though, not everything is meant to be used internally. We safeguard and increase our health by using the different tools at our disposal safely and appropriately.
Enjoyed this article? Show some love and share it! You can also show us some love by leaving us a testimonial! If you never want to miss one of our new and fabulous articles, join our mailing list. Our regular posts can help you build your knowledge to improve your sex life and have better relationships. If you really want to up your sex game, you can join our Sexy Hero Society for exclusive content. If you're looking to improve your knowledge in a specific area, you can also check out what we currently have available for online courses. We also have some thought-provoking as well as scandalous items in our online shop where your patronage helps us fund future research. So how do you want to grow your sex skills? Choose what works for you and make your mark!
Author:Explore Sex Talk
Teela Hudak is founder and CEO of Explore Sex Talk. She wants to connect you with the important information you need to know about sex, sex education, and relationships. She seeks to make it easy for you to ask questions about an area of life that people are usually embarrassed by. Sex is fun, why shouldn't learning about it be? Get over your discomfort and join the open conversation now!