The Punishing Emotional Blackmailer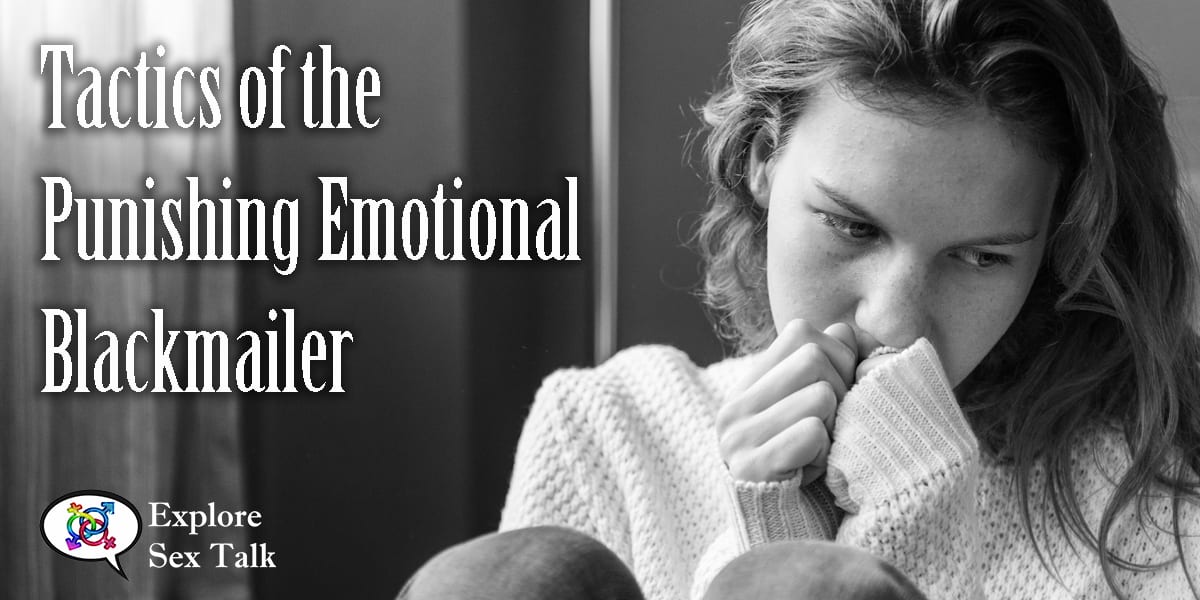 Emotional blackmail can happen in a number of different ways. Different abusers have different styles and well as strategies that go with those styles. One of the most blatant styles is that of the Punisher. We are definitely not talking about the avenging comic book character but a type of abuser who uses aggressive anger, fury, and direct threats to invoke the fear, obligation, and guilt of emotional blackmail. This type of emotional blackmailer is the most obvious and easy to spot.
The punishing blackmailer can use a number of different styles but they all boil down to the same type of message, "my way or the highway". This type of abuser always wants the balance of power to be totally one-sided: their side! No matter what you are going through or what you feel, they will try anything to keep the balance in their favour. So what kind of strategies do these kinds of abusers use?
Punishing Technique 1: Active Threat
The first and usually highly effective technique is to use an active threat. These are statements, usually pretty scary ones, that paint a clear picture of what could happen if we don't give in to the demands of our abuser. Examples of these kinds of statements can include,
"If you [do or don't do something], I'll leave you"
"[do or don't do something] or you'll never see your kids again"
"If you [do or don't do something], you can forget asking for that promotion/raise"
"[do or don't do something] or I'll cut you out of my will"
"If you [do or don't do something], we'll never have sex again"
Often the abusers don't carry out this threat, in most cases, they don't need to. It doesn't make these threats any less real or scary to us. The idea of whatever the impact of the threat would have on us is usually serious enough that we live in fear that the abuser will carry the threat out. The use of threats can be more impactful for us if the abuser is very pleasant and reasonable for the rest of the time. It is another tactic to manipulate us into fearing the threat being carried out.
This tactic puts us in a precarious position. Do we stand our ground and risk the threat being carried out? Or do we give in to buy ourselves time? Giving in may seem tempting but will perpetuate the cycle of abuse.  It can also build our anger while undermining our self-esteem.
Punishing Technique 2: Enforcing Authority
If our emotional blackmailer is someone who has authority over us such as a parent or boss, punishers will use this authority to apply pressure.
Parents can try to retain control of their children's lives by choosing their profession, life partner, where they should live or how. They use the loyalty we feel to them to incite the obligation and guilt to get their way. Even as adults, many people crave the approval of their parental figures. It can be a lifelong fear to feel their disapproval. In some families, parents use the promise of their money left in their will to continue to exert authority and demand obedience. Parents who use these techniques can often make their children choose between them and people that they love. The ultimatum can build to become an impossible choice where any choice can be seen as a betrayal.
When the punisher is a boss, mentor, or some other authority figure that can impact our lives, the situation can get pretty desperate quickly. If the abuser is also a romantic partner they almost always transfer any bad feelings from one relationship to the other. Any rifts that form in either relationship can have an intense impact on the victim.
When we are faced with punishing authorities, we can end up doing things against our moral and ethical code to escape the abuse. We may end up lying, sneaking around, or keeping secrets to protect ourselves and maintain the illusion that we are actually doing what the abuser wants. Not only does this make us feel dishonest but also runs the risk causing the situation to implode if our deceits are discovered. It also can take a toll on our feelings of self-worth.
Punishing Technique 3: The Silent Treatment
Sometimes emotional blackmailers don't even need to speak. If we displease them, they can retreat behind a wall of silence. We know that they are angry but they choose to shut down all communication. Depending on what our relationship is like with this person, getting the silent treatment can be completely terrifying. If we try to plead and get them to talk, this can often make the silence worse. The abuser will further withdraw from our attempts at communication.
Silent punishers use their silence to deflect any responsibility for their feelings onto us. The silence can feel like putting us into a pressure cooker of stress and tension. Often it can feel easier to just give in to the demands of the abuser. Giving in is the quickest and easiest way to end our discomfort. The more we give in to this tactic, the more powerful it becomes the next time the abuser chooses to use it.
Knowing How to Spot A Punishing Emotional Blackmailer
In the heat of their emotional blackmail, most abusers are totally blinded by their own needs. They can be oblivious to our own feelings and rarely evaluate their own behavior. They believe they are right and that belief justifies any means they need to get you to go along. It is hard to break the cycles of abuse and confront damaging behavior. One of the first steps to doing this is learning more about emotional blackmail and the different types of tactics that they can use. Once we are able to identify them, we can take the next steps to end the blackmail.
Enjoyed this article? Show some love and share it! You can also show us some love by leaving us a testimonial! If you never want to miss one of our new and fabulous articles, join our mailing list or join us on FB Messenger. Our regular posts can help you build your knowledge to improve your sex life and have better relationships. If you really want to up your sex game, you can join our Sexy Hero Society for exclusive content. If you're looking to improve your knowledge in a specific area, you can also check out what we currently have available for online courses. We also have some thought-provoking as well as scandalous items in our online shop where your patronage helps us fund future research. So how do you want to grow your sex skills? Choose what works for you and make your mark!