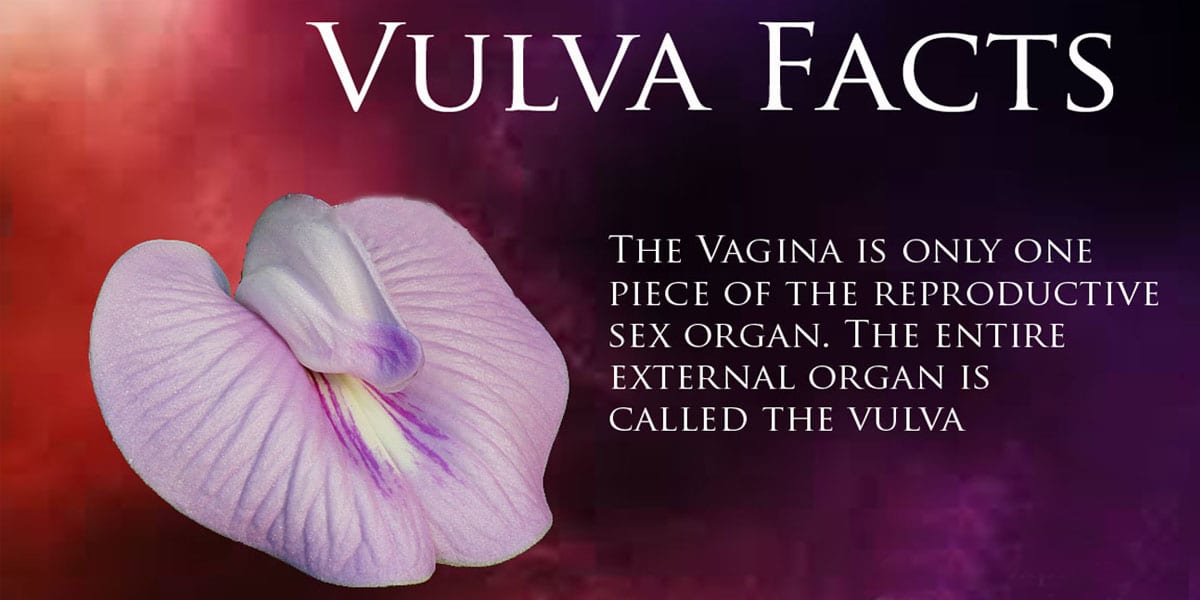 Usually, when we are discussing private parts there are the usual words that come up like penis and vagina. There is also a whole list of colorful slang that people use when referring to their genitals. These words can be silly sounding and encourage us to relax when talking about sex. They can also be used with the intent to be insulting or shameful towards someone else.
Sometimes the words we use also just draw our attention to specific parts of the genitals. Human bodies are really complex things and our reproductive organs are no different! When we get down to really talking about anatomy, there is a name for each piece of the reproductive system no matter what equipment you have in your pants. Today we are going to focus on the vulva.
What is a Vulva?
I'm so glad that you asked! The vulva is the name of the of the entire external part of a reproductive sex organ. It includes the mons pubis, clitoris, labia major and minor, the vestibule of the vagina, the bulb of the vestibule, and the Bartholin's glands. That's a whole lot of parts! Each of these different pieces serves a function in reproductive health, sex, and sexual pleasure.
The vulva is typically referred to as a female sex organ and while it is usually females that have a vulva, they are not the only ones. Any person who doesn't fall on the gender binary or who identifies as transgender could have a vulva.
So what's the Difference Between a Vagina and a Vulva?
Well, the vagina is still part of the vulva but it's the internal part that accepts penetration from a penis (or fingers or toys or whatever you're using). It is an important part of the vulva. The vagina tends to get talked about more because it is the connection that bridges the external to the internal part of the reproductive system. There are also a lot of interesting things that happen in the walls and surrounding areas of the vagina.
So why talk about the vulva at all? Well as wonderful as the vagina is and can be, many people who have vulvas don't always experience an orgasm from simply vaginal stimulation. When we talk about the vulva as a whole, we open the conversation up to more options for sexual pleasure as well as other important health knowledge.
Talking about only one piece of the vulva is almost like talking about just the nose or mouth on a face. Each part has its purpose and we can talk quite extensively about them but we still talk about the face as a whole.
Why Isn't This Taught in Sex Ed?
Words like this are taught in comprehensive sex education programs. Traditional sex-ed programs focus primarily on reproduction and sexually transmitted infections scare tactics. With this type of approach, there is only the need to discuss the vagina, as this is the internal shaft that the penis enters.
When you open up conversations about the vulva and all of its parts, suddenly you need to talk about all the other parts of the sex organ. These parts have no other purpose than pleasure and health. Traditional sex ed doesn't usually discuss sex for pleasure so there isn't much motivation to go into these details.
Everyone Should Know About Reproductive Health!
No matter what gender you identify as, what reproductive organs you have, or what people you're interested in dating, everyone should know about all types of reproductive organs. It can be important for you to know for yourself, your partner, a close friend, or even a relative. Many people feel shy about having these kinds of conversations. They may feel more comfortable getting some basic knowledge from you than a stranger. You can empower others as well as yourself by having the facts.
Enjoyed this article? Show some love and share it! You can also show us some love by leaving us a testimonial! If you never want to miss one of our new and fabulous articles, join our mailing list or join us on FB Messenger. Our regular posts can help you build your knowledge to improve your sex life and have better relationships. If you really want to up your sex game, you can join our Sexy Hero Society for exclusive content. If you're looking to improve your knowledge in a specific area, you can also check out what we currently have available for online courses. We also have some thought-provoking as well as scandalous items in our online shop where your patronage helps us fund future research. So how do you want to grow your sex skills? Choose what works for you and make your mark!